Closed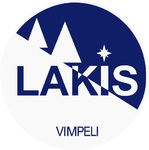 Lakis
Lakis Ski centre is located in the municipality of Vimpeli in the lake area of Southern Ostrobothnia, on the east coast of beautiful Lappajärvi.
Wonderful views open up over the lake from the peak of Lakis and the cottage village. The pleasant caravan site is located close to the lower station, from which a lit 15 km ski route leaves with 3 shelters along the route.
Lakis has three long slopes 600-750 m and a childrens slope 100 m.
Slope information
SkiPass system
SkiData
Information updated 9.7.2020
Gallery